An article on Velocette horns contributed by "Taff the Horn".
Until circa 1966 Velo used Miller Electrics. Until then, Lucas made all their electrical components and marketed it to manufacturers as a complete package, Miller did not. BTH made magnetos for the package offered to manufacturers and Clearhooters Ltd made the horns! Clearhooters also made horns under different logos and names such as Wipac, CLearhooters, CLarion, CLayrite, Miller, Desmo, Raydyot, Halfords, Stadium, Simms, P&H, even Lissen plus quite a few more.

Engines such as Villiers already contained their own built in ignition system, plus often their electrical supply. Makers then needed to obtain the ancillaries, switches lamps etc and the fringe producers, Miller, plus Wipac marked items had been tooled for and were plentiful and at reasonable compared to the Lucas competition. Velo were the folks who stuck with Miller.

In Short, the GTP Velo used 'Q' Series hooters made by Clearhooters of Moseley as did the larger machinery until mid 36?+-. Clearhooters 180A which was the far more economical version of the Lucas Altette then was used on Velocettes, other than a 180 which was used on the MOV similar numbers but the 'A' model was a heavy cast Iron item and the 180 a pressed steel item with no antirust coating inside - worse still, no hole to drain away moisture! Few of the latter survive.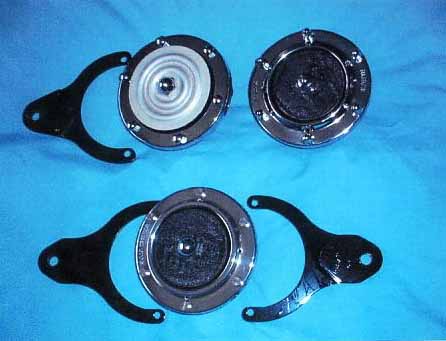 Pre and Post War Clearhooters 180A
The 180A used one dome nut and cheese headed 2BA pins not the domed pins, stud and nut assemblies Lucas used. Wrinkle paint was used on the body and the flat alloy disc of Clearhooters.

Lucas horn brackets do not accept Clearhooters or vice versa. The outside profile is more angular than Lucas and the mounting holes take 2BA pins not the beefier 1/4" BSF ones Lucas use. The amount of metal on a Clearhooter bracket is limited and often breaks if opened out to take a Lucas horn. Also there is a parallel on the sides of a Clearhooter 180A bracket. which you will see on the inner curve of the bracket. The "uninformed" who struggle to open up a Lucas bracket ends up with a weakened bracket with large holes. The big Velocette swinging arm machines used 180/2 Clearhooters brackets. The ones beneath the front of tanks on earlier machines used a shorter version of the same bracket, you can cut a 180/2 profile. I suggest the use of stainless pins to hold the horn to the bracket to be on the safe side since 2BA is pushing luck on a vintage machine hooter.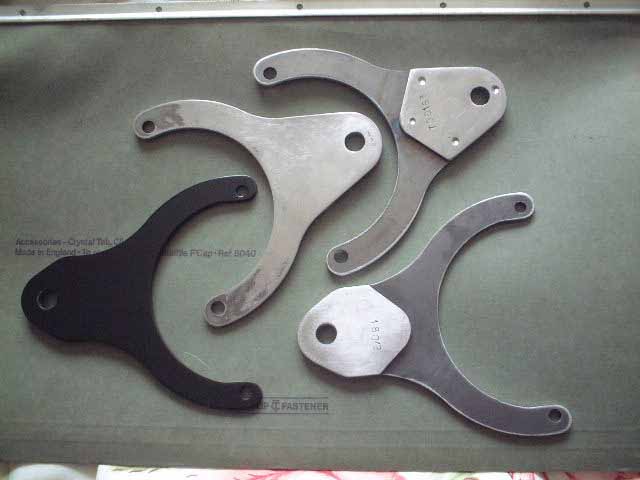 Clearhooters Velocette brackets
Regarding bezels, "Clearhooters" were stamped on the bezel in relief on quite a low percentage of the 180A, usually on proprietary items, but the times they appeared on machines seems to have been governed by availability. The Clearhooter bezels were around 3 times as thin as Lucas bezels and did not last (Anti rust coats never used).

Post WW2 Clearhooters now of Brompton Rd. Birmingham had their 120, 130 140 150 160 160 170 ranges which supplied parts for LE Velocettes plus Valiant Vogues etc. These did find their way to those large late Velo machines which had the fairing around motor and gearbox that allowed them to be mounted beneath the fairings. (They were cheap tweeters too)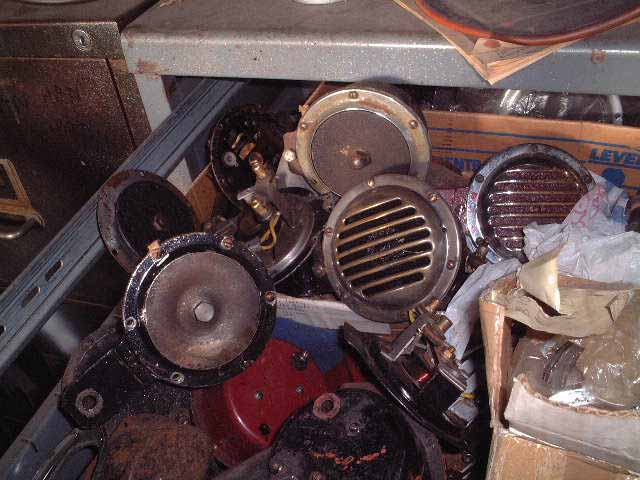 Clearhooters 140 and 150s

The hooters used on the Production racers, were actually 6V versions of Lucas 6H items used on cars in 12V form, (they were not a long production run)

More information.
Diagram of different horn brackets
Taff refurbishes and supplies horns and horn components. He can be contacted by telephone on +44 (1) 792 23 37 63 or by e mail at lynn.isaac@tinyworld.co.uk You may also wish to visit his Welsh Motorcycle Racing Circuit website http://www.silverdragons.co.uk/